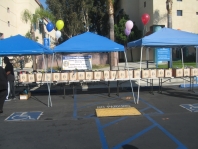 Blessed is he who considers the poor; the Lord will deliver him in time of trouble. Psalms 41:1
Jesus knew that food is essential to sustaining life. He fed the people before he ministered to them. In the body of Christ, community outreach is a must. Ordered Steps Ministries (OSM) seeks to honor Christ's example, both the material and the spiritual needs of those we serve. We start by feeding the hungry.
Every year, on the Saturday before Thanksgiving, we minister to those in need through prayer and gift boxes filled with food. At Christmas, we offer boxes of food and toys.
Praise God! In 2014, our partnership with another ministry allowed us to broaden our outreach. We expanded our distribution to include personal items (soap, deodorant) and household goods. We are greatful and excited about how God continues to provide.
SERVICES
Bible Study
Sisters United L.A  (Monthly meeting)
Noon Prayer
Email Us
mnkphsr@gmail.com
323. 9740088