Satan Comes to Kill, Steal Destroy
Satan Comes to Kill, Steal Destroy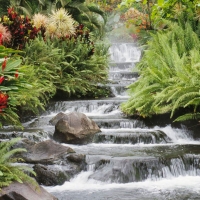 November 12, 2014
The Christian community is mourning the death of internationally-known minister, Dr. Myles Munroe; his wife, Ruth; Senior Pastor, Dr. Pinner, his second-in-command, and six others who were killed on Monday in a private jet that hit a crane while attempting to land in the Bahamas. Since that tragedy, a thought has entered my mind. Could there have been a warning or check in the spirit of Dr. Munroe and the other Christians traveling with him that they may have ignored in order to meet their planned schedules?
Two days ago, Dr. Munroe was slated to host his third Global Leadership Forum with speakers and guests attending from all over the world. One article stated that he planned to have dinner with U.S. Ambassador, Andrew Young, in Freeport about 90 minutes after his plane was scheduled to land. Foreign Minister, Fred Mitchell, said that a commercial flight making that same route turned back because it was unable to land.
In a prior interview, Dr. Munroe said he was hosting the Leadership Conference because God gave him a vision of a deceased runner who was in a casket with his baton still clinched in his hand. He interpreted the dream to mean that many leaders were dying without passing the baton to the younger generation. His conference was to teach leaders how to pass their batons.
We are all born with instinct, a gut feeling, if you will. These feelings may "surface" based on an event, a relationship, or experience. When we're born again, it's called discernment because our spiritual eyes are opened. It's a "knowing" that's intensified as a result of spending time in the Word and prayer. God is so merciful that he'll inform us in visions, dreams, and through others.
There are many questions that will never be answered regarding the Munroe tragedy. As Christians, we know that satan comes to steal, kill and destroy. In the book of Job, satan is going to and fro looking for whom he may devour.
No matter how busy we are, it is vital that we're always receptive to listening to the voice of God. Every part of our daily activities must be covered in prayer. God always provides a way of escape. Hearing and "obeying" God must supersede our desires. We can never afford to allow reasoning to override our spiritual discernment. Lives are at risk.
Shalom
Address
637 E ALBERTONI STREET
SUITE 209, CARSON, CA 90746
Located in the Albertoni Business Center
Email Us
orderedsteps@ca.rr.com