Pastor Michael N. Henderson, Sr.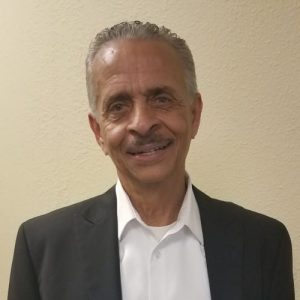 Pastor Michael is a gift to God's people, the body of Christ. He exemplifies who and what a pastor is all about. A friend, guide, and confidant, Pastor Michael is always available to encourage, listen, teach, exhort, and comfort.
In 1985, Pastor Michael accepted Christ as his personal Savior. He earned an AA degree in Hebrew and Greek Studies, a Bachelor of Arts in Theology, a Master of Arts in Hebrew Studies, and a Doctorate in Religious Philosophy from Evangel Christian University in Monroe, Louisiana. He has also received an Honorary Doctorate in Divinity from the Total Word Concept Institute.
In 2004, Pastor Michael established Ordered Steps Ministries (OSM) in his home. Years later, he moved the ministry to Carson where the church continues to thrive. He is currently organizing a group of ministers and pastors to address God's direction for the church.
The Institute of Biblical Excellence exemplifies Pastor Michael's commitment to "rightly dividing the word of truth" 2 Timothy 2:15. Founded by Pastor Michael in 2009, the Institute is a school for those interested in a deeper understanding of God's Word. Here, the pastor teaches Hebrew, Greek, Hermeneutics, Biblical principles and much more. In addition, to teaching at the Institute and pastoring OSM, Pastor Michael is editing the manuscript of his first book.
Pastor Michael has the wisdom of God and freely shares, encourages, and utilizes the gift. He gladly expounds on the word of God, preaching and teaching anywhere, anyplace, and anytime he is needed. As he yields to the Holy Spirit in what often begins as conversation, he is energized by his anointing. That anointing instantly becomes contagious. After hearing Pastor speak, one might say, "I know you have been with Jesus," for "this was not revealed to you by flesh and blood." Matthew 16:17
Pastor Michael is proudly married to the love of his life, Katherine. They work side by side to further the cause of Christ. Pastor Michael is the proud father of two sons, Dr. Michael Henderson, Jr., the Senior Pastor of Shiloh Church of God in Christ in Oceanside, California, and Dr. David Henderson, a physician in Charlotte, North Carolina. He and Lady Katherine are the proud grandparents of six.
SERVICES
Bible Study
Sisters United L.A  (Monthly meeting)
Noon Prayer
Email Us
mnkphsr@gmail.com
323. 9740088